Mesotherapy / Micro-needling & Chemical Peel treatment combination.
The Meso Super Service!
Our 'meso super service' treatments use the benefits of light peeling, immediately followed by digital micro-needling & finished with a highly enriched, cooling sheet mask. Each treatment/course of treatment is tailored by your specialist for you. This gives an extensive list of benefits, please read below for further details.
---
Before & After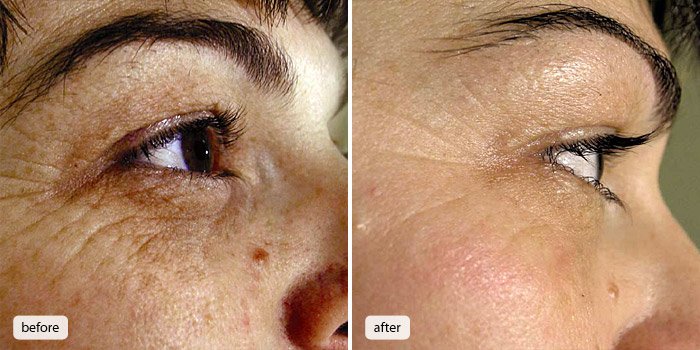 ---
What is a chemical peel?
A chemical peel is a technique used to improve the appearance of the skin on the face, neck or hands. A chemical solution is applied to the skin that causes it to exfoliate and eventually peel off. The new, regenerated skin is usually smoother and less wrinkled than the old skin. The new skin is also temporarily more sensitive to the sun. There are three basic types of chemical peels:
Superficial or lunchtime peel: Alpha-hydroxy acid or another mild acid is used to penetrate only the outer layer of skin to gently exfoliate it. The treatment is used to improve the appearance of mild skin discoloration and rough skin as well as to refresh the face, neck, chest or hands.

Medium peel: (not used in super-service) Glycolic or trichloroacetic acid is applied to penetrate the out and middle layers of skin to remove damaged skin cells. The treatment is used to improve age spots, fine lines and wrinkles, freckles and moderate skin discoloration. It also can be used to smooth rough skin and treat some precancerous skin growths, i.e. actinic keratosis.

Deep peel: (not used in super service) Tricholoracetic acid or phenol is applied to deeply penetrate the middle layer of skin to remove damaged skin cells. The treatment removes moderate lines, age spots, freckles and shallow scars. Patients will see a dramatic improvement in skin appearance. The procedure is used on the face and only can be performed once. 



 What should first be done before considering a chemical peel?
A thorough evaluation by an aesthetic clinician is imperative before embarking upon a chemical peel.
When is a chemical peel appropriate?
Chemical peels are used to treat a number of conditions including:
Acne scars, Aging skin, Crow's feet, Hyperpigmentation, Melasma, Scars, Sun damaged skin, Sagging skin, Wrinkles. 
Who is a candidate for a chemical peel?
Generally light-haired and fair skinned people are the best candidates for chemical peel! The procedure does not work as well on dark-skinned patients. The procedure is not recommended for individuals with infections, active skin disease, cut or broken skin, sunburns or active Herpes simplex 1 sores. Other counter-indications include patients who are:
Pregnant, Have taken Accutane in last six months, Have psoriasis, eczema, dermatitis or rosacea, Have used Retin-A, Renova, prescription skin care products, products that contain ascorbic acid, bleaching or skin-lightening agents or other acid-based products in the last 48 hours.
Are chemical peels painful?
Chemicals peels tingle and can sting but do not cause a great deal of discomfort. The gentlest peels use alpha-hydroxy, glycolic, lactic or fruit acids are also gentle. They may cause stinging, redness, irritation and crusting but as the skin begins to adjust all these problems will lessen. 
What can I expect after having a chemical peel?
All peels require some follow-up care
Superficial peels require one to seven days to heal. Treated skin will initially be red and may scale. Lotion or cream should be applied until the skin heals, followed by daily use of sunscreen. Makeup can usually be worn the next day.

Medium peels

require seven to 14 days to heal. Treated skin will initially be red and swollen. Swelling worsens for the first 48 hours. Eyelids may swell shut. Blisters may form and break. Skin crusts and peels off in seven to 14 days. Skin must be soaked daily for a specified period, followed by ointment application. Antiviral medication is taken for 10 to 14 days. Mild lotion or cream may be applied. Avoid all sun exposure until healing is complete. Camouflage makeup may be worn after five to seven days. A follow-up appointment will be necessary to monitor progress.
Sun exposure and smoking after a chemical peel must be avoided because they can cause unwanted side effects, including infection and scarring.
How does Mesotherapy work
Mesotherapy involves the micro-injection of a specially prepared mixture of vitamins, amino acids, and medications, placed just millimetres under the skin into the problematic area. Just a "drop" of solution is used at each injection site.
The idea is that you can get these active substances to the site requiring treatment by directly injecting them there. This is instead of relying on a tablet or intravenous injection where higher concentrations of the drug are required in order to get adequate levels to the site requiring treatment. Mesotherapy is both more precise and requires less solution to be injected.
The actual preparation injected into the mesoderm (or surface layer of the skin) during Mesotherapy depends upon the problem being treated. In general, the substances used can include: a local anaesthetic, and products that may reduce inflammation and treat veins, muscle relaxants, enzymes, vitamins, minerals, plant extracts, hormones, and hormone blockers; to name but a few.
Mesotherapy as a skin rejuvenating treatment!
Mesotherapy in the treatment of ageing skin aims to replace minerals, vitamins and amino acids that are found in lower levels in skin as we age.
Another newer procedure is to boost levels of hyaluronic acid in the skin. This is another important component of the skin that helps to maintain firmness and texture.
Again, as the skin ages, levels of hyaluronic acid decrease, and it is claimed that injecting more hyaluronic acid into the dermal layers (just below the surface of the skin) helps to stimulate more collagen production, which, in turn, improves skin tone and helps to reduce fine lines and wrinkles.
What happens during a Mesotherapy treatment?
Careful discussions regarding your reasons for wanting treatment of your skin are very important before you begin mesotherapy. You must also make sure that this treatment can deliver what you want and how you would like to look afterwards.
A medical history should also be taken to make sure that there are no reasons why you shouldn't undertake treatment. You may be asked to sign a consent form which means that you have understood the potential benefits and risks associated with the procedure.
Photographs may also be taken by the practitioner for a "before and after" comparison at a later date.
Treatment may be carried out immediately after an initial consultation at which point you will be informed as to how many treatments you will require.
 
The procedures
Mesotherapy involves multiple injections using a very fine needle, immediately beneath the surface of the skin. It will help to improve circulation, replace lost vitamins, minerals and amino acids, or boost levels of hyaluronic acid.
Each treatment takes about ten to twenty minutes and is generally not painful. If you find it uncomfortable, a topical anaesthetic can be applied prior to treatment.
Repeat procedures
Micro-injections are given every couple of weeks for two to three treatment courses. Some individuals may require a longer initial course of treatment.
When the desired effects are achieved, you will require a maintenance program every 2 - 3 months or so.
---
Meso Super Service Menu
1 Treatment               £70
3 Treatments            £190
5 Treatments           £280
**Images displayed are for temporary use and are used as examples from go ogle image search**
---