Michael Blackham brings you The Plasma-Pen.
Revolutionary age-reversal procedures that require NO surgery!
---


Revolutionary age-reversal procedures that require NO surgery; a handheld plasma pen that uses a small electrical charge to produce ionised gas, directed at damaged or unhealthy skin to directly treat an extensive range of skin conditions. From fine lines/wrinkles, sagging skin, acne, scarring, mole's, verruca's through to diabetic patients without the high risk of infection or need for post operative drugs.
The plasma pen treatment consists of multiple releases of ionised gas spaced closely together in a specific  formation directly to the area needing to be treated.
The procedure takes less than 30 minutes to perform & results are seen instantly. Then increase in appearance for up to 12 weeks following the procedure with strict aftercare.
Up to 3 treatments can be carried out at 12 weekly intervals, for more severe cases, if needed. A specific treatment plan will be devised upon your consultation. With your consent the treatment can be carried out with intensities that can be guaranteed to give a final result of the equivalent surgical procedure.
all at a fraction of the price.
 Over the most recent years, Michael has been working hard pushing the boundaries and treatment possibilities while mastering the art of 'The Plasma Pen by Louise Walsh International'. He has been very fortunate to work closely with the entire Plasma Pen Uk team and having Louise Walsh, herself, as his mentor. Together they have taken the UK based training and turned it into a globally recognised progressive education pathway allowing technicians to work from entry level through to becoming master trainers. 
 Michael is very proud that he has subsequently been awarded the titles of a 'Master PlasmaPen Educator', 'Global Master Educator' & is a Brand Ambassador. He is very excited that he is part of the Louise Walsh International Senior Education Team, spreading the Plasma Pen love far and wide.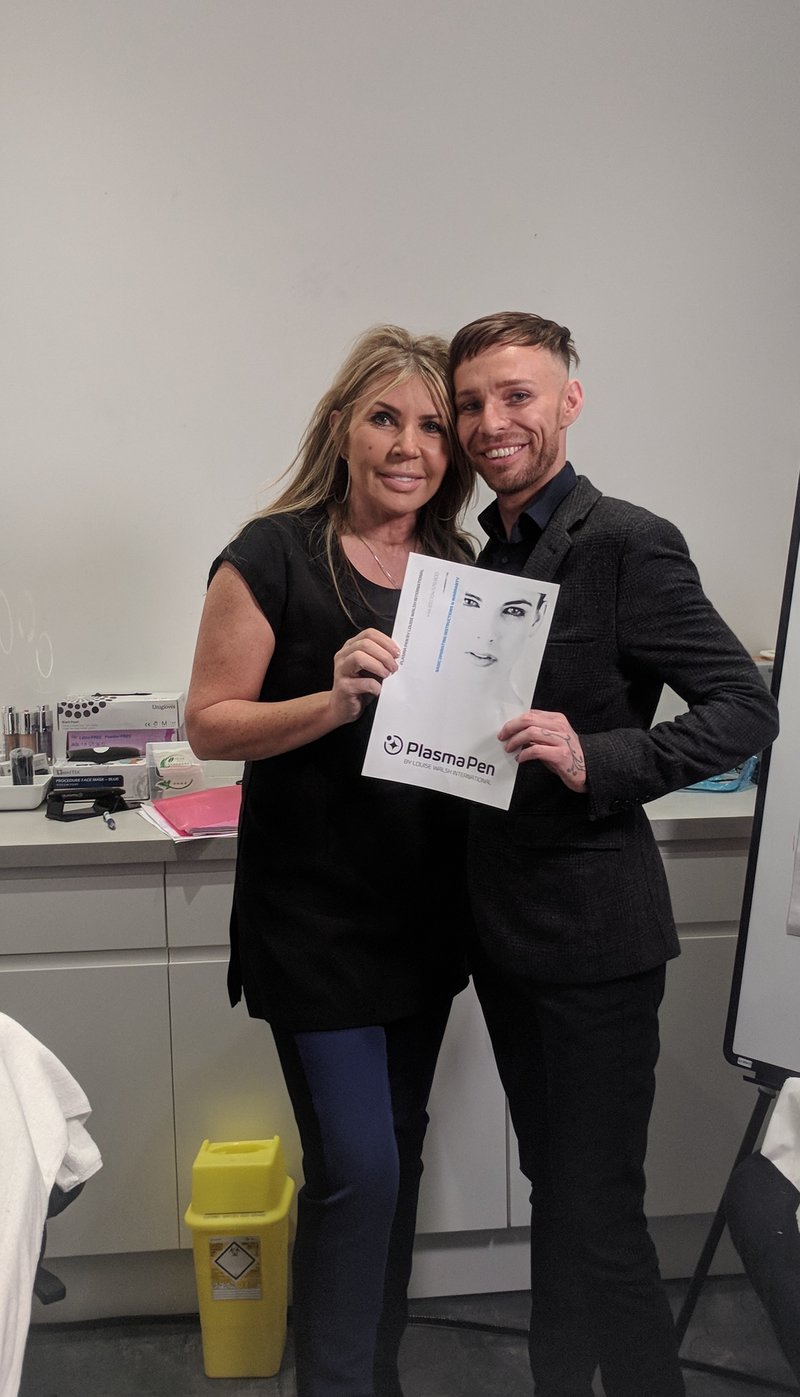 ---
Before & After Images
---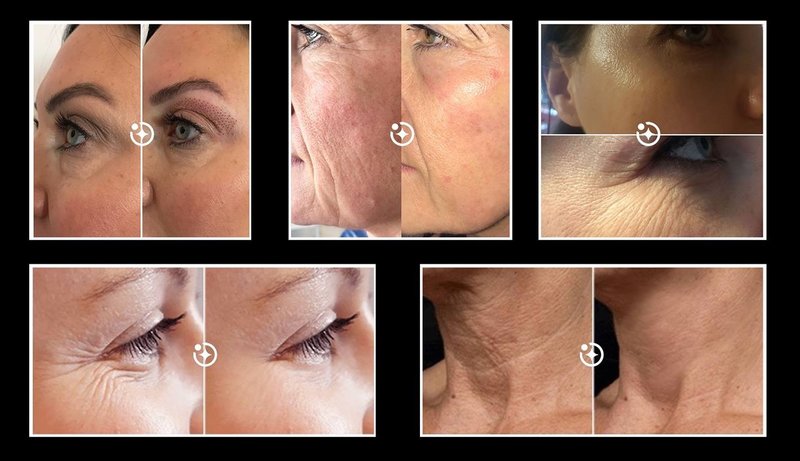 ---
Who can be treated?
Anybody with pale – tanned skin tone. Specifically, skin type 1-3
What areas can be treated?
Plasma can be used to remove skin lesions, excess skin and for the reduction of lines and wrinkles by tissue sublimation without cutting.
Recommended for the following treatments:
Non-surgical blepharoplasty (eye-lid lifting)

Skin lesions such as fibromas, warts, papillomas and xanthelasma.

Scarring; stretch marks, acne scars and post-surgical scars.

Pigmentation / sun spots.
             & Much more.
How does the treatment work?
Plasma causes sublimation which is the process of turning a solid matter into a gas, so results are instant and there is not excessive heat transferred to surrounding tissues to cause damage to 'normal' skin.
Plasma pen uses medical grade, sterile, single use and pin-point accurate technology to deliver guaranteed results. Your trained specialist will isolate the exact treatment area needing to be worked on following an in-depth consultation. The treatment area is numbed prior to procedure so pain is minimal to none. It is a very calm and relaxed procedure that takes less than 30 minutes to complete per area. This is soft surgery that requires NO downtime as there is no use of a scalpel, sedatives or post procedure medication.
Is it safe and does it hurt?
Local anaesthetic cream is applied for 20 minutes prior to the procedure to minimise any discomfort and the procedure is then virtually painless. For other areas, local anaesthetic cream or injections may be used to provide numbness. The treatment may feel warm in places and there may be a tingling or burning sensation afterwards for a short amount of time.
Plasma technology has been used worldwide for over 25 years medically & clinically with no significant adverse effects.
 The Plasma Pen UK device by Louise Walsh International has gained FULL accreditation & approval with CE compliance, FDA approval & Universal Licence. This magic wand has been PROVEN to be safe world wide.
Are there any side effects?
Following Plasma treatment, tiny dark brown/black spots will appear or there may be an appearance more typical of a mild burn within the treatment area(s). Swelling is common and often lasts 48-72 hours and can be quite significant around the eyes, in particular. The area will often be red and warm immediately after the procedure and tender for up to 72 hours. Patients may experience a tingling or burning sensation.
Crusting or a scab will develop and it is important to keep this clean, dry and protected. Sometimes the area can be sloughy. It is important not to mess with the treatment area for at least 5-7days post procedure to allow the body to heal and finish the treatment maximising the effects furthermore.
What can I expect after treatment?
Your specialist will be able to tell you exactly what results you will achieve and collate a bespoke treatment plan just for you. This can be achieved within a 30 minute time frame and you can book a consultation free of charge.
General treatment information:
Final results depend on severity of skin laxity or size of lesion, the desired result, the general condition of the skin and any pre-existing skin or medical problems. In severe cases up to 3 treatments can be administered with an 8 week gap in between visits.
Reduction in skin folds and creases appear immediately. Tiny dark brown spots appear where individual shots have been fired or a larger burn-like appearance may be seen where an area has been 'sprayed' with plasma. The tiny dark brown spots flake off over the following days (up to 1 week) and burns will heal within a similar period. Swelling is common and can be quite pronounced around the eyes, often worse the following morning and lasting for up to 72 hours. The area may be tender as it is healing and may scab over or become a little sloughy.
It is important to allow any spots or scabs to fall off naturally otherwise scarring or infection may occur.
The treated skin is sublimated, the results often last years or is permanent.
Aftercare advice
Immediately after treatment, there may be a burning sensation. This will usually resolve during the remainder of the day. An anti-inflammatory medication such as ibuprofen can be taken.

It is normal to have specific site swelling. This can be significant around the eyes and can last for 72 hours.

Cold compresses may be applied to reduce the swelling and any discomfort.

Crusting (scabbing) will develop over the treated area, this will initially be brown or black on the surface of the skin and flake off over the following 5 days. It may take up to a week to completely disappear. It is essential not to pick at this crusting as this may lead to infection or scarring.

Occasionally the treated area may become a little weepy, this is part of the normal healing process and will improve within 48-72 hours.

It is essential to keep the treatment area clean, dry and protected with a broad spectrum sunscreen once the brown spots have fallen.

Use the allocated skin surface cleanser, moisturiser & spf50  once a day for at least 8 weeks following procedure. this is essential to boost treatment effects post procedure.

Do not apply a plaster or an occlusive dressing over the area for any stage of the healing time.

It is normal that more than one treatment is needed for results that compete with surgery, if the reason for treatment is severe. There should be at least eight weeks before any further Plasma treatment in the same area.

 

Procedure Overview

Procedure Time: 30-60 Minutes per area (average treatment time)

Pain: Minimal Discomfort - No Pain

Anaesthetic: Numbing Cream

Recovery: 7-10 Days

Result Duration: 3 years - Permanent

Risks: Redness, swelling, crusting, tenderness, weeping, scarring not removed & additional scarring if aftercare isn't adhered to. (Specific treatment area only)





---

Treatment Areas & Pricing:

Upper Eye Lid Lift                                                 £499

Under Eye Area                                                    £499

Upper & Lower Eye Areas                                   £799

Brow Lift                                                                £349

Crows Feet                                                             £299

Top Lip Lines                                                         £299

Bottom Lip Lines                                                   £299

Top & Bottom Lip Lines                                        £399

Mid Face Lift                                                          £749

Nasolabial (side of mouth)                                    £349

Neck Lift                                                                 £899

Full Face Lift                                                        £1999

Décolletage                                                            £999

Upper Arms                                                           £999

Hands                                                                     £349

Stomach                                                               £1499

Knee Lift                                                                £749

 All areas of the body are treatable & are priced upon consultation.




Discounts on multiple areas within the same treatment time will be applied during consultation.



---